Since Punchline made headlines with her cameo debut in Batman #89, causing chaos it seemed at the local shops with people in a frenzy to get their hands on copies and some retailers listing at secondary market prices, we now look forward to the first full appearance which has already been leaked by DC to occur in this weeks Villain of the Year: Hell Arisen #3 (You can still pre-order the 2nd Printing as the first prints sold out rather quickly and now selling for $30+ on the secondary market pre-sales).
We also know DC has leaked that her next full appearance in the current Batman title will be in issue #92.
There are hints though that she could make a cameo or appearance perhaps in Nightwing series as early as issue #70.
Here is the solicitation of Nightwing #70: "How many Nightwings does it take for one Joker to strike to get to the real one? Four Nightwings. And that's not even the punchline-how will Ric interact with the Joker when he's not quite sure which one of his two memories is the real one…and exactly how dangerous this clown standing before him is?"
We know they are kicking off the new Joker War story line or the path to Joker War in Nightwing #70, which is FOC this Monday February 24th. And we already have clues that Punchline is one of Jokers new henchperson.
Here are 3 unfinished but inked pages from that issue DC sent out:
The accompanying text sent out with these unfinished pages was: "How will Ric interact with The Joker when he's not quite sure which one of his two memories is the real one, and exactly how dangerous this clown standing before him is? Is this the issue where the Joker tracks down the real Nightwing-and is The Joker the key to the return of Dick Grayson?"
It is confirmed that Punchline is going to make an appearance in Nightwing #72 since it's been revealed she's on the cover and in the solicitation, which reads: "Dick Grayson has learned the truth: that 'fixing' his identity lies with none other than Barbara Gordon. He must go to Gotham to find Batgirl-and runs into The Joker's new henchperson, Punchline. Unlike Harley Quinn, Punchline's deadpan black humor matches the deadly knives she uses on her victims…and for her next joke, Ric Grayson is the punchline."
Nightwing #70 Regular Cover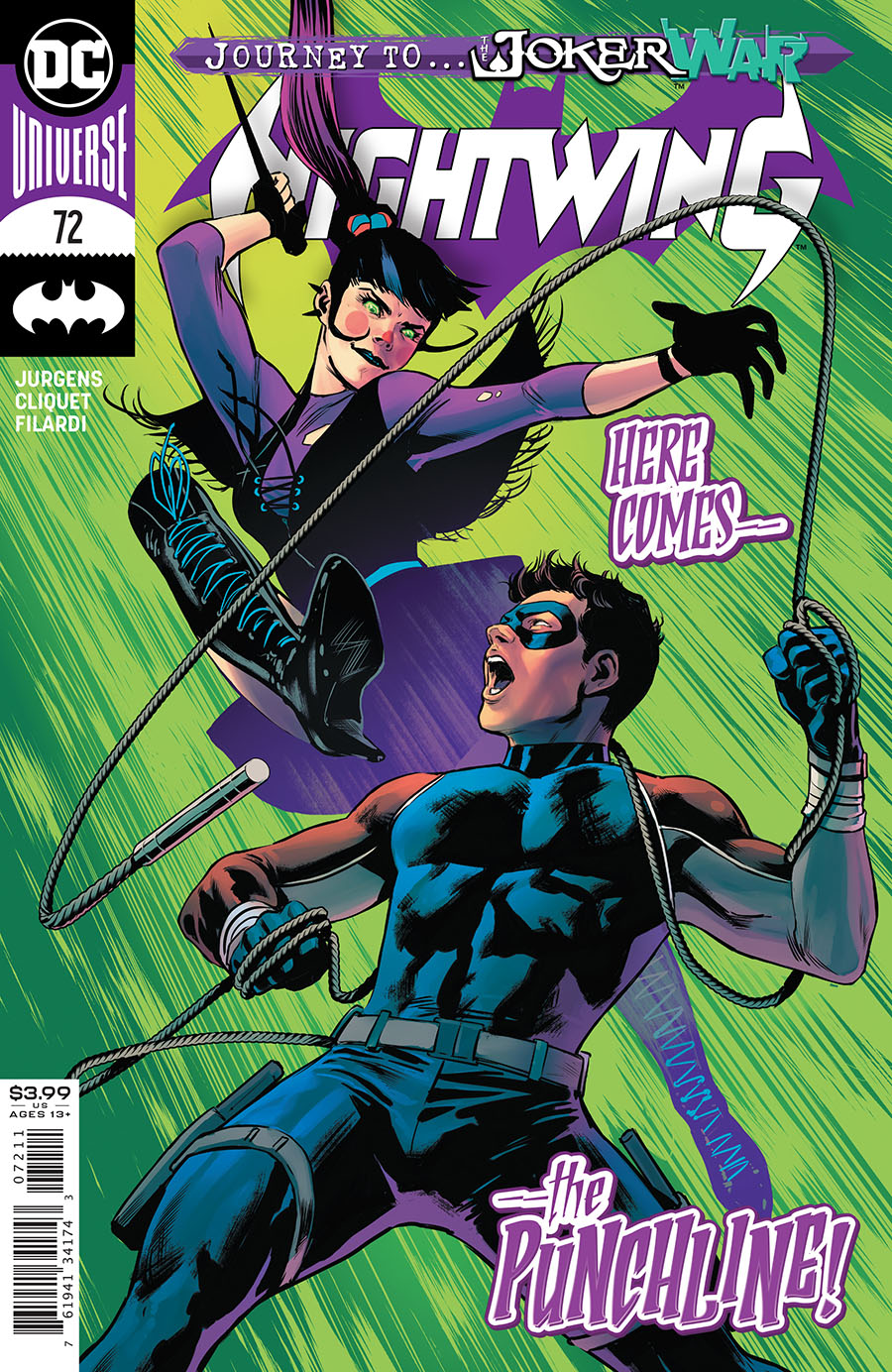 Nightwing #72 Regular Cover
Batman #92 Regular Cover
We'll have to keep a close watch on Nightwing #70 though. Why you ask? Well, Punchline is slated to next appear in Batman #92 after making her cameo in #89 and if she does make any type of appearance in Nightwing #70, it hits store shelves before Batman #92 hits shelves.
Of course, this is all speculation. But it wouldn't surprise me if DC snuck in another cameo type appearance since it was revealed The Designer was going to appear in Batman #90 but also made an cameo in #89.